.

THE PRINCESS AND THE PEA: Please note in reality the walls are white, not pink

This is so called because of the bed built into the very structure of the room. The luxurious 5ft wide Vi-spring mattress is exceptionally deep and comfortable, and like the King Bed in the Magic Carpet, several inches longer than the average double bed. .

The total width of the bed structure, including the necessary steps, has to be around 7ft wide and probably around 4ft high. So far, whenever I remember I ought to check the measurements, by chance the suite is always occupied. But if accurate measurements for this structure are important to you please ask and I will make a point of checking them.

The entire suite has been planned for two persons and is unsuitable for children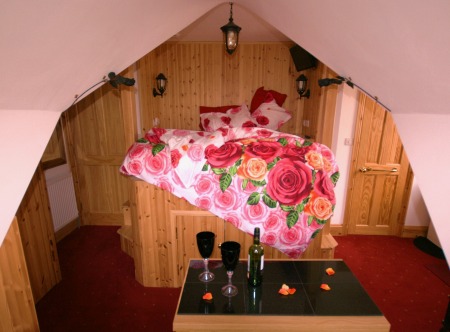 PRINCESS AND THE PEA.:Note the steps up to the bed which is recessed to about 2ft, and you can just see the two end pillars to the foreground. The television swings out on brackets from the recess so that it can be viewed from both the bed and the seating area. To the right are working surfaces and cupboards ( like so much of this room, made of wood) where you'll find the circular sink/basin, fridge, microwave etc. There is a velux window here above the sink. On the right of the bed you see the door to the spacious bathroom. To the left of the bed at right angles to the entrance door is a large mirror above the radiator. To the left foreground you can just see the wardrobes. Behind the photographer is a pair of comfortable bucket chairs and a pair of cottage paned casement windows.

You see here the 'working surfaces' and general facilities for The Princess and The Pea,
The square table has now been replaced by a more aesthetically pleasing, circular table, large enough to serve the two bucket chairs.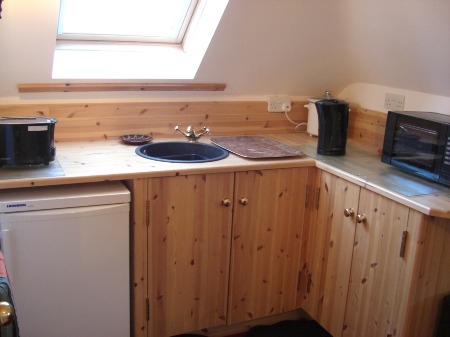 The architectural shape of the eves in the P&P is querky and attractive At the same time these querkier eves are more intrusive to very tall persons. In the photograph you see black roses hanging proud of the white eves We have since replaced these with sprays of 'art...' flowers which we change to match the linen and soft furnishings. These together with faux hanging ivy cause tall guests to duck!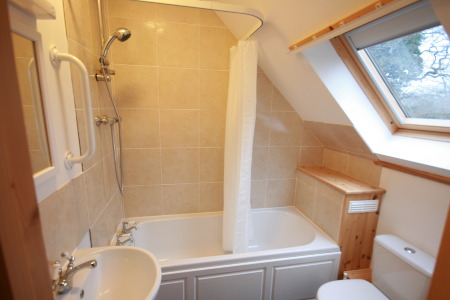 Princess and the Pea Bathroom: this ensuite bathroom is the largest and best of our bathrooms.

THE ROMANY VARDO: is an equally charming suite/studio, on our first floor. This light and colourful suite offers the same facilities as the Princess and The Pea.. The King bed is equally as luxurious and comfortable and was designed to resemble a (large) ROMANY VARDO (complete with crystal ball!) The main room of the Romany Vardo, is around 14ft x 10ft but the additional en-suite (with bath & shower over) adds perhaps another 5ft to the length. See more details under prices and service.
We do not have any photographs of the RV uploaded here yet, but we can send you some via email, with additional information