Only moments ago we had driven from the Estate Agents in Brockenhurst Village - we might as easily have walked from Brockenhurst station. We had crossed 'the watersplash', turned briefly onto a minor road flanked by green on both sides, and within seconds we had passed a cluster of New Forest ponies on rough track. We turned off by the side of a lamp post in the forest - like Narnia! At the end of the unmade up lane, almost as tall as the trees surrounding it, we found the Victorian House that would become our own. We were as enchanted then, 20 years ago, as we are now, and that was before the door in the Oak tree, the celtic gate into the inner courtyard tumbling with plants, the dragon guarding the door.....And the fairy tale doesn't stop there. Make your way up two staircases to the first floor, turn right and then left through a fire door (not that you'd know) into the recent wing and there ahead you'll find the Romany Vardo complete with crystal ball and its award winning king bed. Or climb the winding staircase to your left and you'll come to the Princess and The Pea, with its unique and very comfortable King bed, built into the very structure of the room. These two special en-suites, herald, we hope, the message that Broad Oak is no ordinary B&B..

Princess and The Pea and The Romany Vardo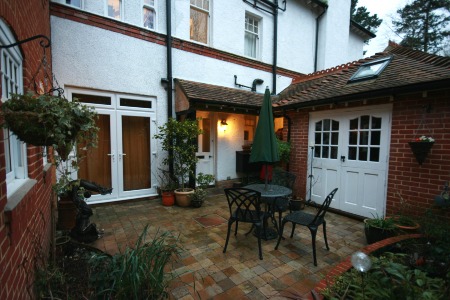 Our inner courtyard at Dusk in winter: like most spaces captured with a wide angled lens, the reality is not quite as large as the photograph suggests, but behind the photographer is a garden wall tumbling with plants, and beyond that a backdrop of trees lining a footpath to Brockenhurst Village centre.

Originally the house was known as Lolland. When we first offered holiday accommodation / B&B around 15 years ago, we were given a 4 Diamonds silver award. A decade later much has changed, not least the building. A major revamp was carried out in the main house, when we built on an annexe for our son 'Beau'.

We are still providing each suite with it's own fridge, crammed with a generous supply of quality food, assuredly beyond breakfast, a microwave, utensils, table and chairs etc..If you require a portable State of the Art halogen glass bowl ovens, you have only to ask and we are then allowed (by The Rating Officer) to produce one for your use. in addition we provide thick Brintons carpets, luxurious deep well-sprung mattresses of exceptional quality, flat screen TVs, bespoke fitted wardrobes and cupboards, much much more and above all, more than a taste of Pzazz! We'll decorate your en-suite (always en-suite) to a theme. You choose: a South Sea Island?..a romantic FairyTale with giant red roses and fat gold cherubs a foot high, a slight twist and we'll veer it to Gothic
or you might like an Eastern theme ..or fairies..or something else, At the time of writing I've just had the pleasure of responding to a request for fairies and unicorns for an anniversary. Tell us what you are looking for, and I'll enjoy creating a Sue-interpretation of it. We also provide timed twilight star projectors (or the aurora borealis) and sound effects machines to lull you to sleep. No additional expense for any of the above theatricals. This is something that we just love doing.

REVIEWS- Yes, when I looked at TripAdvisor our last review was dated 2016! That doesn't mean no-one has stayed since then. They have... I'm embarrassed to ask guests to write reviews because it seems wrong for them to have to write an essay after having paid to stay! Fortunately a number of guests are returners or have learned about us by word of mouth. And every now and then someone like yourself finds this website, and emails or phones us


I don't have a smartphone because I have hearing loss and most of the time I don't even hear my mobile phone ring! However, we have 7 land phones in-house and I am usually close enough to one or other of them to pick up a call...and I have ways of ..hearing.. you talk! In any case someone is usually at home You can reach us by email susiejoiner@aol.com in which case we would appreciate your your phone number(s). If our response isn't instant be assured that I will get back to you as soon as I can, that I am OCD about giving of my best, and hopefully you will conclude that we are 'woith it'.

By phone you can reach us at 01590 622208. We don't have an ansaphone; but it is rare for the house to be empty. It might take time for someone to get to a phone....or in my case, to register that it is ringing... and then I run! If I'm in the sittingroom its exhilarating to make a straight run from there through the sitting room, the hall and dining room to finally end up in the kitchen! But if I'm sitting here, I can pick up the phone on the stroke of a second.
At the time of writing I tend to go to bed late (were the years of teaching responsible for that?) but because of the idiosyncratic way we offer breakfast (fantastic value I promise) I am able to rise late ..as are you. In fact if you choose not to get up at all, or to begin munching at 2 am you can do that here. No-one will mind nor will they be likely to notice.


PLEASE EXPLORE OUR OTHER PAGES BY CLICKING ON THE HEADINGS TO THE LEFT OF THIS PAGE. You will see photographs not only in the section marked 'PHOTOGRAPHS' but also in the section marked 'THE 'APARTMENTS'.

.At last we have photographed the house front with wisteria in bloom, but despite my brother (who makes films and can take beautiful photographs) having arrived and disappeared several times, we are still having difficulty placing that photograph and others on this site. Meanwhile, you will be able to view the house on TripAdvisor under Broad Oak B&B Brockenhurst..old photographs without themes or Twilight star projectors, . We have had no end of problems because we don't fit into a designated box and stay there, but if you like the notion of ... 'different', (which one of our reviewers calls us) so far we haven't seen anyone doing it with as much enthusiasm as we do! The fact is that we aren't trying to be different at all; we are trying to produce the universal something that most of us want from a Special break . relaxation, stimulation and a memorable experience.

Special House & Site - Country House off forest track, only 8 minutes walk Village Sleep Quality - Few competitors can match the luxury of our beds......... Privacy - Own private upper staircases, quality carpets & thick underlay .......... Relaxation and indulgence - Other than on your departure day, you don't even have to get up in the morning. We do our best to fit into your parameters.................. Food & Provisions - Much more than you need for a Breakfast. Do we Cook? no...: We, shop and how! Our Accountant couldn't/can't believe how much we spend on food for guests. It's not rational but we can't help it. See our reviews and try us yourself. Stimulation - Stay in one of our themed suites, and it's unlikely you'll ever stay in another like it. As a general rule this won't be the place for the ubiquitous generic hotel laundry white . Unless you say otherwise - we aim for colour, with a rainbow of towels in your bathroom, each towel washed with it's own colour 'tribe' to maintain brightness. We aim for Drama, for Impact. If you have a particular remit in mind we take pleasure in producing that for you. It probably takes us three times longer to prepare our suites than our competitors might take, in part because of our attention to detail, getting the soft furnishings just right, colour matching your table napkins to your bedlinen, for example. We want you to be wowed and if you are, we are very happy!

PLEASE NOTE PHOTOGRAPHS NEED SERIOUSLY UPDATING. Our suites now look infinitely better in reality than these old shots show. Later pictures can be seen by googling in TRIPADVISOR REVIEWS BROAD OAK BROCKENHURST, but even those photographs don't reflect our themes, and all curtaining and soft furnishings everywhere have changed.

As always, we will be happy to answer your queries. 01590 622208

Read unbiased opinions about <a href="http://www.tripadvisor.co.uk/">hotels<./a>
and <a href="http://www.tripadvisor.co.uk/">holidays<./a> at TripAdvisor.